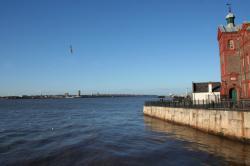 The River Mersey is in England's north western corner. It runs for 70 miles from Stockport,
Greater Manchester
to Liverpool Bay on Merseyside. Throughout history it marked the ancient county divide between
Lancashire
and Cheshire.
Today the source of the Mersey is considered to be at the confluence of the Rivers Goyt and the Tame in central
Stockport
. Older maps, however, often place the source further up the Goyt where it meets the Etherow just below Marple in Cheshire.
After leaving the busy urban area of Stockport the Mersey flows by East Didsbury, Stretford, Urmston and Flixton before entering the Manchester Ship Canal at Irlam. The natural course of the Mersey has been forever altered by the canal in the stretch from Hollins Green to Rixton. The original river bed can still be seen outside Irlam and also at Warburton.
At Rixton the Mersey separates from the canal and heads north as it meanders through Woolston, where there is a nature reserve known as Woolston Eyes, before heading on to
Warrington
. Salmon can now be seen in the newly rejuvenated river at a place called Salmon Steps. The Mersey has tidal flow downstream from Howley Weir in Warrington where the high spring tides will often overwhelm the weir. Howley Lock, which is now redundant but still in evidence, was created to bypass the weir before the ship canal existed.
Once beyond Warrington the river widens and runs between
Runcorn
and
Widnes
in an area known as the Runcorn Gap. The Manchester Ship Canal runs alongside the river as they both pass through the Runcorn Gap. Two bridges, the Silver Jubillee Bridge and the Runcorn Railway Bridge, cross the river here.
Beyond Runcorn the river widens into a three mile wide estuary at
Ellesmere Port
before turning north. At this point the 2008 Liverpool lies to the east bank and the
Wirral Peninsula
is to the west. Once again the Manchester Ship Canal and the Mersey meet, this time at Eastham Locks where the canal enters the Mersey for the final time and terminates. The eastern banks are wetlands and provide an important habitat for wildlife.
The estuary narrows as it flows between
Liverpool
and
Birkenhead
before flowing into Liverpool bay and the Irish Sea. It is here, in the area known as Merseyside that the Mersey is perhaps best known thanks in no small measure to the popular 60's beat combo
The Beatles
. The band's original sound was part of the Merseybeat phenomena that conspired to put the Liverpool, and the Mersey, firmly back onto the international map. The Mersey itself was popularised in the Merseybeat song 'Ferry Cross the Mersey' by a group called Gerry & The Pacemakers.
More British Natural features?
Other Merseyside Naturals
The River Dee
Wirral Peninsula
Formby Sands