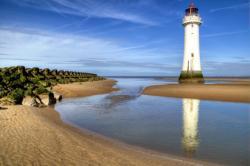 Situated in the north west of England, the Wirral Peninsula has the
River Dee
to its west and the world famous
River Mersey
to the east. The peninsula projects into the Irish Sea.
Chester
lies on the very southern edge of the peninsula and
Liverpool
faces it from across the Mersey. The M53 motorway cuts the peninsula almost in two and divides the industrial east from the more rural western half of the peninsula. Wales lies opposite the Wirral, across the River Dee which marks the boundary between England and Wales.
There is evidence of human occupation on the
Wirral
dating back at least as far as 7,000 BC. When the Mersey Railway tunnel connecting Wirral to Liverpool was opened in 1886 the suburbs, such as those at
Wallasey
,
Hoylake
and West Kirby, expanded rapidly. Such was the rate of growth that Wallasey's population passed 53,000 by 1901. As the age of the car dawned, in 1934, the Queensway Tunnel was opened for road traffic. The Kingsway Tunnel, once again for the now completely dominant motorcar, opened in 1971. It links with the M53 motorway to form a trunk route straight through the Wirral.
Today, most of the population of the Wirral is concentrated on the eastern side. A large conurbation has been formed by
Ellesmere Port
and
Birkenhead
and all the towns and villages around and in between, all of which once existed independently along the Wirral.
Britain's first ever country park can be found on the peninsula. The
Wirral Country Park
is built on the former location of disused railway lines. Within the park is the Wirral Way, an extremely popular leisure destination in the north west. It is 12 miles long and follows the old railway that ran from West Kirby to Hooton in mid-Wirral. A beautiful beach is just another part of the park's attraction. You can reach the beach from the bottom of Station Road or via the Tinkers Dell Steps. The Wirral Country Park's facilities include the visitor centre, a bird hide, toilets, picnic areas, a café and the Green Shop.
Perhaps not quite as tranquil as the country park, but just as popular, is the annual
Wirral Show
. This is a spectacular two day festival with a variety of main attractions, side shows and displays. Visitors on previous years have been thrilled by truck-jumping motorcycles, Royal Marines Commando display teams, parachute stunts and falconry displays. There was even by a flypast of the Airbus A380, the world's largest commercial aircraft, at the 2008 Wirral Show.
Accommodation available in
Wirral
includes many fine hotels, comfortable bed and breakfasts and self catering properties.
More British Natural features?
Other Cheshire Naturals
River Mersey
The River Dee
Cheshire Plain
Alderley Edge
The Bridestones