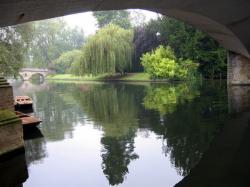 The River Cam flows through the ancient university town of
Cambridge
. The river has been an integral part of the development of both the town and the university. Stone used to build the many fine structures that are part of the university was carried into the town on the Cam in barges.
The River Cam is a tributary to the
Ouse
, which it meets at a place called Popeís Corner just south of the cathedral city of
Ely
. The river has been navigable for large parts of its 40 mile length for hundreds of years. The Conservators of the River Cam is an organisation formed in 1702 that is charged with keeping parts of the river navigable. The Conservators maintain the two locks, Jesus Lock and Baits Bite Lock, that are found in and just north-east of Cambridge.
The section of the river downstream from Jesus Lock is sometimes referred to as the lower river. The part upstream of Jesus Lock is known as the middle river and the stretch above Mill Pond is the upper river.
The river is synonymous with the Cambridge University. Images of students lazing around on punts wearing straw boater hats and with a glass of Pimms in the hand are perhaps now a stereotype. However, punts and rowing boats tend to dominate the river, which can be very busy with such traffic in fine weather.
The clear waters of the Cam make it a favourite with anglers fishing for the roach, chub and dace, perch, bream, carp and pike all found in the river. The riverís popularity with fishermen is aided by the fact that there are several stretches of free fishing on common land along its banks.
As much of the Camís length has a towpath, walking is very easy along many stretches of the river. Walking is an excellent way to enjoy the beautiful scenery as well as some stunning views of the university. Cycling is also possible along many stretches of the river.
Wicken Fen
, one of Britainís oldest nature reserves, is a popular attraction. One of Britainís most important wetland sites. Wicken Fen is home to a staggering array of wildlife. There are more than 1,000 species of moth and butterfly in the reserve, as well as upwards of 200 species of birds. Dragonflies are also well represented in the reserve. Wild ponies, highland cattle and even otters are also all resident at Wicken Fen.
More British Natural features?
Other Cambridgeshire Naturals
The Fens
The Great Ouse
River Nene
Wicken fen
Greensand Ridge