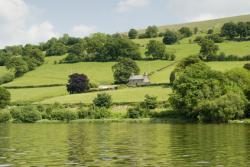 Bala Lake, or Llyn Tegid in Welsh, is a lake in Gwynedd. The glacially formed lake is the largest natural body of water in Wales at four miles long by a mile wide.
The lake is famous for its deep and yet clear waters. However, in recent years it has been plagued by algae which have bloomed as a result of pollutants present in the lake. The establishment of a partnership approach between the Environment Agency, the water industry, the farming and forestry industry and others hopes to reduce
pollutants entering the lake and to reverse the damage already done by them. The lake is now a protected wildlife site.
Despite the worrying environmental issues,
Bala
Lake has abundant pike, European perch, trout, eel and the rare gwyniad. It is home to the very rare mollusc Myxas glutinosa - the Glutinous snail. The existence of another Bala inhabitant, the legendary monster of the lake known as Teggie, has never been scientifically verified! It's no surprise that fishing is popular pastime at Bala Lake with plenty of fish to be had in such stunning surroundings.
Another legend claims that whilst the
Dee
itself flows into the lake, the waters of the two never mix. However, this seems to have been disproved by detailed research work undertaken in the 1990s and subsequently as part of the work carried out in response to the occurrence of algal blooms on the lake.
The lake lies in the beautiful
Snowdonia
National Park. The town of Bala is at the north eastern end of the lake among the Arenig and Berwyn mountains. The small town is know for the lovely
Georgian
and
Victorian
buildings that survive there. The diminutive town has been a popular stop-off point for visitors on their way into Wales for a long time.
Water sports on the lake provide a draw, and there are big numbers of enthusiasts drawn to the expanse of Bala lake. Kayaks, yachts and various other types of boats are available for rent to tourists wishing to spend some time messing about on boats. However, as the lake is a very busy tourist destination in high season it is advisable
to book your activities as far in advance as you can.
For those looking for something firmly on dry land, the narrow gauge
Bala Lake Railway
runs for several miles along the lake's southern shore. The steam railway is a famous attraction and an excellent way to see the wonderful lakeside scenery.
More British Natural features?
Other North Wales Naturals
Llyn Peninsula
The River Dee
Menai Strait
Snowdonia
Wirral Peninsula
Swallow Falls
Clwydian Hills
Berwyn
Carneddau
Porthor
Carneddau