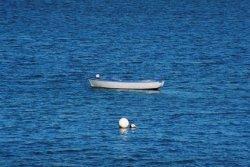 The Menai Strait is a narrow stretch of shallow tidal water, about 14 miles long, which separates the island of Anglesey from the mainland of Wales. It is part of the Irish Sea. The Strait is as much as two miles wide but narrows to a little over 200 yards in the area of the bridges. Tidal peculiarities mean The Menai Strait can be very hazardous for shipping, the HMS Conway foundered there in 1950.
There are two bridges over the Strait, the most famous of which is probably
Thomas Telford
's elegant iron suspension bridge that was opened in January 1826. This iconic bridge was the first of its kind and was built as part of a massive scheme to link England and Ireland. The bridge takes the A5 trunk road over to the Anglesey. While the suspension bridge formula has since been repeated thousands of times, back in its day it was seen as revolutionary and some even doubted it would stand! But stand it does right to this day. It was later joined by the adjacent
Robert Stephenson
's 1850 Britannia Tubular Bridge. This bridge originally this carried rail traffic in two wrought-iron rectangular box spans. However after a major fire in 1970, which left only the limestone pillars remaining, it had to be rebuilt. Unfortunately it wasn't restored to its original state and is now steel box girder bridge.
There is a small island that lies between the two bridges known as Ynys Gored Goch, complete with a house and outbuildings. Remains of medieval fish traps have been found there.
Underwater wonders at the Menai Strait include extensive mud flats and sandbanks that are exposed at low tide. These are important feeding areas for birds such as the oystercatcher and curlew. There is information about Traeth Lafan Reserve available at the Llanfairfechan Beach Pavilion.
There are several nature reserves on the shores of the Menai Strait including Coed Cyrnol, Menai Bridge and The Spinnies, near
Bangor
. Visitors can take a
pleasure boat trip
along the Menai Strait from
Plas Newydd
,
Beaumaris
or
Caernarfon
. Those who like to keep their feet on dry land can view the coastline from the wonderful Anglesey Coastal Path.
If you prefer a little order in nature, there's the fabulous formal gardens at Treborth. The gardens were originally designed by Sir
Joseph Paxton
(famous for the Crystal Palace) and partly laid out as a pleasure garden to be known as Britannia Park. Unfortunately the money ran out before it was completed and it fell into disrepair. The Treborth Botanic Garden has since been completely overhauled, replanted and landscaped and has proved a very popular attraction.
More British Natural features?