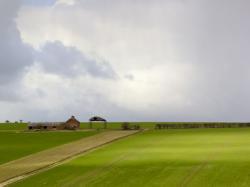 The Lincolnshire Wolds are a range of hills covering an area of around 200 square miles. The Wolds are the highest area of land to be found in the entire area of eastern England that lies between Yorkshire and
Kent
. The Lincolnshire Wolds are a designated Area of Outstanding Natural Beauty (AONB).
The Lincolnshire Wolds were originally part of the Yorkshire Wolds, which run up through the
East Riding of Yorkshire
. However, the original, larger Wolds area has been cut in two by the waters of the mighty
Humber Estuary
. At 551 feet, the highest point in the whole of Lincolnshire is Wolds Top, which is marked by a trig point just north of the village of Normanby-le-Wold.
With all the surrounding areas being principally flat, the Wolds provide wonderful views. All of the larger structures in the north and east of the county can be seen from various points on the Wolds. These include the Belmont mast,
Boston Stump
, Grimsby Dock Tower, the Humber Bridge,
Lincoln Cathedral
, St James' Church in
Louth
, the radar station near Normanby,
Tattershall Castle
, and the wind turbines on the coast near
Mablethorpe
. The Lincolnshire Wolds were designated an Area of Outstanding Natural Beauty (AONB) in 1973, and are managed as such by the Lincolnshire Wolds Countryside Service.
The Wolds are very popular with walkers and ramblers. The
Viking
Way long-distance footpath traverses the Wolds. It runs from
Barton-upon-Humber
, in North Lincolnshire, on into
Rutland
. There is a Youth Hostel in Wolds, situated at Woody's Top near the village of Tetford.
The Wolds also offer many great opportunities for mountain biking. With the rest of the county being so flat, the Wolds are the only location in Lincolnshire to offer anything of any challenge for the off-road cyclist. The quiet country lanes that thread through the Wolds are very popular with road cyclists. Horse riding is a favourite pursuit in the Wolds. There are many miles of bridleway to be explored and organised horse treks are available in the Wolds.
The Lincolnshire Wolds are a rich habitat for wildlife. Much of the area is given over to agriculture, although pockets of woodland remain to give some cover for wildlife. Several species are drawn to the relatively sparsely populated area. Most notable among the creatures living in the Wolds are the kestrel, meadow pipit, short-eared owl and woodcock
More British Natural features?
Other Lincolnshire Naturals
The Fens
Humber Estuary
The Wash
Vale of Belvoir