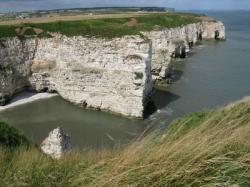 Flamborough Head is a massive peninsula situated on the East coast of Yorkshire between the
Filey
and
Bridlington
bays of the North Sea. The headland extends approximately six miles into the North Sea and forms one of the most impressive landscapes along this spectacular stretch of coastline.
Flamborough Head was defined as a Heritage Coast by the Countryside Commission and the local authorities concerned in October 1979. In October 1982 the Flamborough Headland Heritage Coast Project was launched to promote and encourage interest in the area. Flamborough Head has also been designated a Special Area of Conservation (SAC) by the British Government's Joint Nature Conservation Committee
Along the northern edge tall chalk cliffs, home to one of the largest nesting sea bird colonies in England, tower up to 400 feet high. On the tip there are coves, sea caves and stacks. Rocky outcrops protrude into the sea and have wrecked many passing ships. The South coastal cliffs, with their views of Bridlington Bay, are smaller.
Flamborough
's lighthouse was first established in 1669 records suggest it was never actually lit. Instead it is reputed that lights were used to lure unsuspecting vessels to their doom on the rocks in order to plunder their cargoes. The present lighthouse was finished in 1806 and became fully automated in 1996.
The cliffs are one of the largest sites of nesting sea birds in England, the cliff top walk is a birdspotter's delight. The headland is home to a rare colony of gannets and visiting birds include cormorants, gulls, oyster catchers and eider ducks. Flamborough Head also hosts a wide variety of plant and wildlife species. During the summer season sight seeing cruises are available in the waters around the headland. These visit the famous caves around Flamborough and also provide superb opportunities for sea bird viewing.
Flamborough Head has plenty on offer for everyone from the archaeologist to the geologist, the historian, the ornithologist, the rambler and the day-tripper. The village of Flamborough itself has a distinct local culture with its traditional knitting patterns for fishermen's jumpers and its Danish sword dancing.
Walking is a great way to explore the region and to get close up to the many sights it offers. There are many established walks designed to allow visitors to experience Flamborough Head's unique beauty in safety. Trails such as Danes Dyke Walk and the South Landing Heritage or Sculpture Trail are very popular. Despite the region's remoteness the hungry traveller can always find a good spot to enjoy lunch in one of the area's many pubs, restaurants and cafes
More British Natural features?
Other East Yorkshire Naturals
Humber Estuary
River Don
Spurn Point