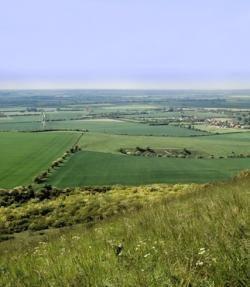 The Aylesbury Vale (or Vale of Aylesbury) is mainly situated in the county Buckinghamshire, England. It is made up of a large area of flat land with
Milton Keynes
at the northern edge, with
Leighton Buzzard
and the
Chiltern Hills
marking the eastern and southern boundary.
Thame
lies on the southern reach of the Vale with
Bicester
at the western limit of the region. The vale derives its name from
Aylesbury
, which is now the county town of Buckinghamshire.
Winslow
and
Buckingham
are two other of the main towns that lie within the vale. Geologically the bed of the vale is mostly formed of clay that was left behind at end of the last ice age. As it melted the receding ice left the vast underground reserves of water now found in the region. This means a water table that is higher than average is present in the Vale of Aylesbury. The natural beauty of the rolling hills found in the region attracted the wealthy and influential from
London
. These included the Rothschild family who came to Aylesbury Vale in the 19th century to build the impressive French Renaissance-style chateau at
Waddesdon
. Aylesbury Vale, being around a one hour drive from Central London, still attracts plenty visitors and commuters today.
More British Natural features?
Other Buckinghamshire Naturals
The Chiltern Hills
The Great Ouse
Thames Valley
Ivinghoe Beacon
Haddington Hill