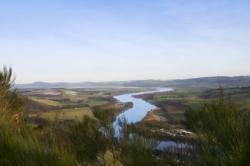 The River Tay has its source in the Scottish Highlands. At its end it flows into the Firth of Tay, near its junction with the River Earn, on the east coast of Scotland after a journey of 120 miles. It is the longest river in Scotland and the sixth longest in Britain. In terms of the actual volume of water it discharges into the sea, it is the largest river in Britain. It has a catchment area of around two thousand square miles. At its source it is no more than a small stream trickling across the upland moors. Beyond the confluence with the Tummel it is a mighty river.
The Tay has its source on the slopes of Ben Lui, only 20 miles from the town of
Oban
on the west coast of Scotland. On its way through the centre of Scotland the Tay passes the towns of
Perth
and
Kinross
. In the upper catchment area the Tay is known by several different names. The first stretch of the river is the River Connonish, then it is the Fillan and subsequently the River Dochart in the area before it flows into Loch Tay at
Killin
.
The river exits
Loch Tay
at
Kenmore
and flows on to Perth, historically the lowest crossing point of the river. On leaving Loch Tay at Kenmore, the river receives the tributaries Lyon, Earn. It also receives the outfall from the Tummel-Garry Hydroelectric Scheme, which helps control flooding of the river. Downstream from Perth the river is tidal at the point before it enters the Firth of Tay. The city of
Dundee
, the largest along the Tay, sits on the north bank of the
Firth of Tay
.
The river flows through breathtaking scenery along its course, making it a popular tourist attraction. It is very famous among fishermen as it provides a great variety of fish, conditions and scenery. It is synonymous with salmon fishing but brown trout, rainbow trout and course fish are also found in abundance.
The river also provides sport for canoeists and offers everything from flat touring to white-water to suit all levels of experience and ability. There is a national slalom site at the Grandtully rapids.
The Tay is notorious for the
Tay Bridge disaster
. On December 28, 1879 the 19th century railway bridge across the Tay at the Firth of Dundee collapsed as a train passed over it. The entire train dropped down into the Firth and 75 passengers and train crew were lost. The rail bridge was rebuilt and in 1960 a road bridge was constructed nearby.
More British Natural features?
Other Perthshire Naturals
Ochil Hills
Loch Tay
The Trossachs