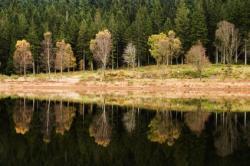 The name 'The Trossachs' is usually used when referring to a wide area of wooded glens and lochs to the east of Ben Lomond. However, strictly speaking, it is an individual small woodland glen in the same area. Nowadays the use of the term is almost always in the context of the wider area.
The Trossachs are part of the
Loch Lomond
and the Trossachs National Park, which lies in the area where the lowlands and the
highlands
regions of Scotland meet. This is the fourth largest National Park in the British Isles, covering 720 square miles of beautiful countryside.
The region is associated with the famous writer
Walter Scott
, who wrote about it in his 1810 poem, The Lady Of The lake, and again in his 1817 historic novel
Rob Roy
. Scott's romantic writings of the region helped it to become an important tourist destination. A steamship, the Sir Walter Scott, has been steaming up and down Loch Katrine for over a century and today's visitor can experience the majesty of the boat at the same time as enjoying the wonderful lakeside scenery.
Queen Victoria
herself had a holiday house built overlooking Loch Katrine.
Loch Katrine was dammed in 1859 at the eastern end and aqueducts were built to supply water to
Glasgow
. The only large body of freshwater in Scotland not called a loch, the Lake of
Menteith
, lies on the edge of the Trossachs region.
As with many of Britain's National Parks, walking is probably the most popular leisure pastime in the region. People have been coming to walk here and enjoy the unspoilt beauty of the place for hundreds of years. With all that water around, it is no surprise that fishing is high on the list of popular Trossachs activities. Loch Venachar, for instance, has been actively fished for hundreds of years. It is now maintained and stocked with brown trout, wild trout and pike and promises a variety of angling opportunities throughout the season.
Cycling has increasingly changed from a mode of transport to a leisure activity in the UK. Places such as The Trossachs are great for cycling with literally hundreds of miles of tracks to explore. Golfing has a long association with Scotland and the area boast a wealth of golfing facilities, including many well established
golf clubs
.
The Trossachs enjoy an extensive network of accommodation,  with everything from luxury hotels to basic hostels on offer.
More British Natural features?
Other Argyll Naturals
Fingals Cave
Loch Awe
Loch Lomond
Loch Fyne
Glencoe
River Leven

Brit Quote:
Everytime a child says 'I don't believe in fairies' there is a a little fairy somewhere that falls down dead. - J M Barrie
More Quotes
On this day:
Scotland and France form their 'Auld Alliance' - 1295, Battle of Southwark - 1450, Newton's Principia Published - 1687, Giant Hailstone Hits Plumstead - 1925, National Health Service established - 1948
More dates from British history