Historic Houses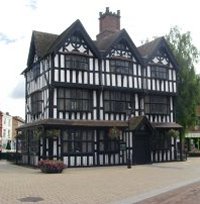 When most people think about historic properties to visit in Britain their minds almost certainly come up with the likes of
Chatsworth
,
Windsor Castle
, and
Blickling Hall
. Nothing wrong with that of course, but such places only tell a very tiny part of the British story, the story of the mightiest aristocratic families and their place in the politics and history of the country. Which leaves out about 99.999 per cent of the population through our history.
For those interested in the more down-to-earth, there are houses and cottages all over the country that give more depth to our view of life in the past. Before setting out it is advisable to check on access and open dates, as special arrangements may have to be made or entry can be limited to certain periods.
And the past does not necessarily have to mean the distant past. Visitors to
Liverpool
, for example, can get back to where
Sir Paul McCartney
and
John Lennon
once belonged, and imagine a day in the life of the lads who would go on to change music as much as Mozart or Monk did. The terraced house –
20 Forthlin Road Allerton
– where Macca grew up, and where the Beatles practised before they were the Beatles, puts the group in context. So too does Mendips, in the Woolton area of Liverpool, where Lennon was brought up by his Aunt Mimi. Both properties are now owned by The National Trust.
Travel just a little further back by visiting
Mr Straw's House
, an extraordinary time-machine of a place in
Worksop
,
Nottinghamshire
, where two bachelor gentlemen preserved their parents' semi-detached home in an almost unaltered state through decade after decade, with the result that decor, contents, furniture and feel are all authentically interwar. This is the sort of place Captain Mainwaring would have occupied, middle class and proud of it. A step down in the social scale, perhaps, but equally fascinating, is the red sandstone tenement house in Buccleuch Street,
Glasgow
. Its two rooms plus kitchen and bathroom meant that 145 Buccleuch Street was certainly not at the poorest end of the tenement range, but it gives an insight into how the majority of Glaswegians were housed in the later 19th and earlier 20th centuries. The solution to housing people in limited space in English cities was generally a different one – back to backs. In
Birmingham
a beautifully preserved court of back to backs can be visited at Inge Street and Hurst Street, giving a great chance to experience the rather claustrophobic nature of the architecture, but seeing how it would foster a community spirit that was lost when these places were replaced with tower blocks.
Just as with the Beatles, those who change history don't necessarily come out of the great houses. The perfect illustration of this is
George Stephenson's birthplace
in Wylam,
Northumberland
, the word humble not being nearly good enough. The great railway pioneer was born here in 1781, and his family lived in the one room.
British history is not just about the urban environment of course. For a breath of fresh air and a view of our agricultural heritage the little farmhouse of Aberdeunant in Taliaris, Carmarthenshire takes some beating. The special beauty of the Welsh countryside around it fits and at the same time jars with the toughness of the life of those working the land and living in such places. The same beauty of setting can be found across the other side of the island of Britain, in lovely Suffolk. Many will have their image of this county from
Constable's
paintings, and the thatched Tudor architecture of Bridge Cottage at Flatford fits in with that picture perfectly, situated just a short distance from the scene of his most famous painting, Flatford Mill.
For what can feel like total immersion in that same era a trip to
Lavenham
is not to be missed. Economic history and happenstance led to this picture postcard village being preserved for us to enjoy and study today, with thatched roofs, timber frames, jettied upper storeys and convoluted chimneys at every turn.
'Historic houses' can seem like a dry term. But with a little imagination and the help of those who conserve the properties for our benefit they can become living history, in which the visitor quickly slips into a time centuries, or just decades ago. The past may be a foreign country, but such humble places are our passports.