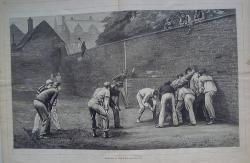 Folk customs are not restricted to villagers emerging to mark ancient boundaries, or brutal workmen bashing their opponents' skulls in games of rough football through towns and fields. The wealthiest in the land have plenty of traditions that they uphold every year, and one of the best known is almost as brutal as the mass football matches in
Workington
,
Sedgefield
,
Ashbourne
or
Atherstone
.
Every St Andrew's Day (November 30)
Eton College
, the venerable public school in Berkshire, stages the one great
Eton Wall Game
match of the year, where a legitimate skill is knuckling an opponent in the face - though punching is not allowed, and where the game stops on occasion when the feeble cry of "Air" is heard denoting a player is suffocating.
This being
Eton
there are naturally rules, and even more naturally a school slang that is pretty impenetrable for mere oiks.
Collegers (those who are in receipt of a scholarship) pit themselves against their wealthier contemporaries, the 'Oppidans' who are paying for the privilege (and never a truer word written) of the best education money can buy. This may seem a bit unequal, given there are 70 collegers (the number laid down by
Henry VI
) and well over 1,000 Oppidans in the establishment. But the minority enjoys roughly the same number of wins as the majority.
The game, 10 against 10, takes place along a narrow strip of land bordered by a wall erected in 1717, though the earliest recorded game took place in 1766. The ball, like a soccer ball but with two slightly flattened sides, spends all, or nearly all, of the two 30 minute halves in a bully, a scrum, that the sides try to work towards the ends of the wall, moving it away from their goal - one goal being a door to a private garden some distance from one end of the wall, the other a similar sized painted area on a tree ˆ and toward their opponents'.
Points are scored in obscure fashion within the bully, should the team manage to move it within areas toward the wall's ends known as calx. In theory goals can be scored by a shy (throwing the ball at the goal) or by kicking it should it ever emerge from the melee. But the last St Andrew's day goal was scored in 1909, not surprising as the goals are distant, the ball not designed for ease of kicking, and the defending team can prevent a goal just by touching the attempt in its flight - a touched ball even should it hit the target is not counted.
Again, this being Eton there have been some very famous players, for example
George Orwell
,
Alec Douglas-Home
, and another PM
Harold Macmillan
. A rather less famous figure now, but in his day a published poet and a scholar of some distinction, James Kenneth Stephen is still celebrated by the collegers every year with a toast In Piam Memoriam JKS (in pious memory of JKS), as he played four times for their side from 1874 to 1877, a strapping lad of huge strength who played as 'wall' (blocking the opposition from advancing along the brickwork). He is somewhat less honourably one (admittedly of many) who has been suggested as being Jack the Ripper.
More British Folk Customs?
If you like this, Share it