Attraction in Bicester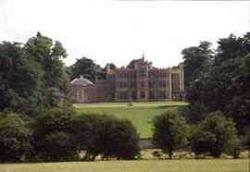 Rousham Park House and Garden
nr Steeple Aston
Bicester
Oxfordshire
OX25 4QX | View map
http://www.rousham.org/
Click for phone
Write a review | read reviews
update this listing
Rousham and its landscape garden should be a place of pilgrimage for students of the work of William Kent (1685-1748). Rousham represents the first phase of English landscape design and remains almost as Kent left it, one of the few gardens of this date to have escaped alteration, with many features which delighted eighteenth century visitors to Rousham still in situ, such as the ponds and cascades in Venus' Vale, the Cold Bath, and seven arched Praeneste, Townsend's Building, the Temple of the Mill, and, on the skyline, a sham ruin known as the 'Eyecatcher'.
The house, built in 1635 by Sir Robert Dormer, is still in the ownership of the same family. Kent added the wings and the stable block. The south front is almost as Kent left it, but for the replacement of the octagonal glazing with plain glass. This was unfortunately carried out by the architect St. Aubyn when he added the north side of the house in 1876. Kent made alterations to the interior of the house, which retains some 17th century panelling and the original staircases, furniture, pictures and bronzes.
Don't miss the walled garden with its herbacious borders, small parterre, pigeon house and espalier apple trees. A fine herd of rare Long-Horn cattle are to be seen in the park. Rousham is uncommercial and unspoilt with no tea room and no shop. Bring a picnic, wear comfortable shoes and it is yours for the day.
Rousham is also available for wedding receptions (see link below) and fashion or other photographic shoots.
No children under 15. No dogs.
Details
Tourist Info Number: +44 (0)1993 813276 (Woodstock)
Months Open: The gardens are open every day all year round. The house is only open by prior arrangement for groups of 12+.
Groups/Parties Welcome: Yes
Contact Name for Groups: C. Cottrell-Dormer
Admission Price: Admission to the gardens is £8 per person.
The house is open by prior arrangement only at £15 per person (including admission to the gardens), with a minimum charge of £120.

More Attractions nearby
Brill Windmill (6.92 miles)

Aynhoe Park (7.79 miles)

Claydon House (8.61 miles)

Iona House Gallery (9.30 miles)

Oxfordshire Museum (9.36 miles)


This page viewed on 82,566 occasions since Oct 16th 2005
Brit Quote:
The true secret of happiness lies in taking a genuine interest in all the details of daily life. - William Morris
More Quotes
On this day:
George II Fights Battle of Dettingen - 1743, 1st World Championship Bout by Queensbury Rules - 1890, Barclays opens Britains 1st cashpoint - 1967, Tony Blair announces resignation - 2007
More dates from British history