Budgets in York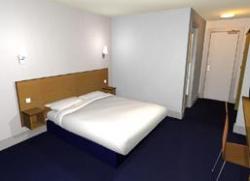 Travelodge York Central Micklegate
Micklegate
York
Anglesey
YO1 6JG | View map
Website
Write a review
update this listing
Sitting proudly within the city's historic walls, the Travelodge York Central Micklegate is perfectly paced for exploring all the shops, sights and sounds. Within a short stroll, you will find yourself at attractions such as York Minster, the Jorvik Viking Centre, York Castle, Betty's Tea Room, York Dungeons and the National Railway Museum.
With the train station nearby and parking available close to the hotel (chargeable) it is also easy to head out and explore all Yorkshire has to offer. Whilst at the Travelodge York Central Micklegate why not spend a day in Leeds, Harrogate or the magnificent Yorkshire Dales.
With so much to see and do, make the Travelodge York Central Micklegate your home away from home and after a busy day relax in a spacious, clean and comfortable guest room. Stretch out on a large bed, refresh in the en-suite and feel at home with TV and hospitality tray.
This page viewed on 1,924 occasions since 2nd September 2011
Brit Quote:
I never deliberately set out to shock, but when people don't walk out of my plays I think there is something wrong. - John Osborne
More Quotes
On this day:
Battle of the Boyne - 1690, First Day of the Somme - 1916, Disaster at Chilwell Shell Plant - 1918, Oxfam Opens its First Charity Shop - 1948, Wade wins Jubilee Wimbledon - 1977, Britain hands back Hong Kong to China - 1997, Smoking Ban in England - 2007
More dates from British history