Self-Catering in Bloomsbury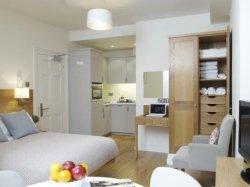 No. 5 Doughty Street
Bloomsbury
London
WC1N 2PL | View map
Website
Write a review
update this listing
Book Now
Blueprint Living Apartments offers a new experience in Central London short stay accommodation – boutique serviced apartments. Whether in town for one night or several months, our four star apartments have the look, feel and cachet of boutique hotel rooms yet are more spacious, individual and economical.
Our interior-designed apartments provide all the creature comforts of a modern city home, combined with the level of service to suit you – just the tonic for leisure or business visitors tired of staying in hotels.
The properties are situated in some of Central London's most exciting and historic areas, providing guests with the best the Capital has to offer in the way of transport links, sightseeing, restaurants, bars and clubs. Near to Kings Cross (Eurostar), Russell Square, Farrindon and Chancery Lane tube stations.
This page viewed on 2,831 occasions since 24th March 2011
Brit Quote:
The dreadful truth is that when people come to see their MP they have run out of better ideas - Boris Johnson
More Quotes
On this day:
The Battle of Otterburn - 1388, The Samlesbury Witch Trial - 1612, Salem Witches Executed - 1692, Bonnie Prince Charlie raises standard at Glenfinnan - 1745, Storm Claims 100 Scottish Fishermen - 1848, The Hungerford Massacre - 1987
More dates from British history