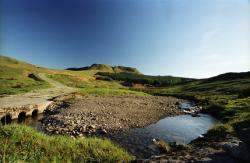 The Campsie Fells are a range of hills that stretch from east to west across central Scotland, with a summit of 1897 feet (578m) at Earl's Seat. They run from Denny Muir to Dumgoyne in East Dunbartonshire. They sit between Endrick Water and the valley of
Strathblane
, which separates the Campsies from the Kilpatrick Hills to the west. They overlook the villages of Blanefield,
Lennoxtown
and Strathblane to the South and have the Fintry Hills to their North, with the Kilsyth Hills to the east. The range was formed by erosion along a geological fault called the Campsie Fault. This action resulted in tiers of rock left by the estimated 30 lava flows that date from the Carboniferous period. Three main rivers rise in the Campsie Fells, these are the rivers Carron, Endrick and Kelvin. In 1841, the English scientist
Michael Faraday
(1791 - 1867) is attributed as having thought of the theory of electromagnetic induction while lost on these hills. Author and broadcaster Tom Weir (1914 - 2006), who became famous for his walks around Scotland, is commemorated there with a walking route and cairn. The Campsie Fells was a location used for the
Monty Python
film 'The Meaning of Life' in 1982.
More British Natural features?
Other Stirlingshire Naturals
Ochil Hills
Loch Lomond
The Trossachs

Brit Quote:
When I was a nurse my favourite assignment was the anorexia ward. I sometimes had 17 dinners - Jo Brand
More Quotes
On this day:
Botany Bay Founded - 1788, Rugby Football Union Formed - 1871, Gordon Killed at Khartoum - 1885, John Logie Baird gives first demonstration of television - 1926
More dates from British history