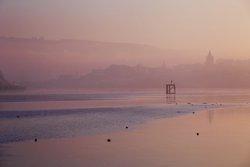 The River Foyle passes through west Ulster in the northwest of Northern Ireland. The name comes from the Irish 'An Feabhal' which means 'estuary of the lip'. The Foyle flows from the confluence of the rivers Finn and Mourne, by the towns of Lifford in
County Donegal
, Republic of Ireland, and Strabane in County Tyrone, across the border in Northern Ireland. It flows onward from here to the City of
Derry
, where it discharges via Lough Foyle into the Atlantic Ocean. The river is the natural border between a part of County Donegal on the western bank of the River Foyle, traditionally known as the Laggan, and parts of both County Londonderry and County Tyrone. The Laggan region includes the villages of St. Johnston and Carrigans, both of which are situated on the banks of the river.
The River Foyle is the fastest flowing river in Europe of its size, and this has meant the construction of bridges to cross it has been difficult. Derry is the main crossing point and has two bridges. The south bridge, officially known as the Craigavon Bridge, is the older of the two and is Europe's only road traffic double decker bridge.The northern bridge, the Foyle Bridge, was built to accommodate large ocean vessels. However, the main port was moved several miles north of the city and the large vessels the bridge was designed for never appeared.
More British Natural features?
Other County Tyrone Naturals