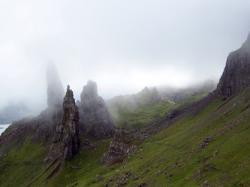 As you take the A855 road north from
Portree
on the Isle of Skye, you will be treated on your left to the imposing skyline that is presented by the The Storr. This impressive rock formation resembles the sort of stark rock faces you might associate more with a spaghetti western. The mountain range and its strange formations are the result of ancient volcanic activity. At the front of The Storr there is an area known as The Sanctuary, which consist of a number of rock pinnacles formed by volcanic plugs. Probably the best known of all of these is particularly large pillar of rock known as the Old Man of Storr.
To reach the Old Man of Storr you will need to scale a steep path up to the Storr.  The scenery is magnificent as the path climbs up towards the pinnacle of The Old Man of Storr itself. The pathway grows ever steeper but the reward is worth the effort it might take to get there. The view from The Old Man of Stoor and the nearby pinnacles of rock is simply incredible, stretching far across Loch Leathan. The various pinnacles of rock themselves are quite a wonderment to behold, forming chaotic and mystical shapes in the wild landscape of The Storr.
There are many walks that are popular with visitors to this area and there are also some opportunities to take on more adventurous hikes and climbs. Some care should be taken when straying from the recommended routes, however, as there are a number of treacherous pathways and climbs alongside the preferred, safer routes.
The Isle of Skye offers accommodation at nearby towns and villages such as Portree and
Uig
. Car and Bicycle Hire is also available. 
The Woodbine Guest House at Uig offers guided walks to The Storr as well as a number of other outdoor pursuits. Access to the Isle of Skye is by road on the A87, crossing the bridge over to
Kyleakin
at the south eastern edge of the Isle. Trains running from
Inverness
will take you as far as the
Kyle of Lochalsh
, from where you are able to cross the Skye Bridge by foot or by the bus service. You can also take the ferry from
Mallaig
to Armadale. This can be reached by road or rail, with a vehicle ferry ready to take you and your car right on to the Isle of Skye.
More British Natural features?
Other Isle of Skye Naturals