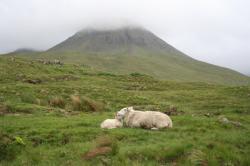 &searchThe Cuillin of Skye are a range of rocky mountains on the Isle of Skye in Scotland. The 'true' Cuillin are called the Black Cuillin to distinguish between them and the Red Hills, which lie on the other side of Glen Sligachan. The Black Cuillin are higher and rockier than the Red Hills.
Despite the very northerly position the climate of the Isle of Skye is actually kept relatively mild by the influence of the Gulf Stream (North Atlantic Drift).True winter conditions, as experience on mainland
Highland
Scotland, are actually rare. However, this northerly location does mean days are very short in midwinter.
The Black Cuillin are principally formed of basalt and gabbro and it is the dark colour of the gabbro that gave the hills their name. Gabbro also happens to be a very rough rock that gives excellent grip for climbing. However, the sections of the smooth basalt can be very slippery when wet. The mountains present a range of climbing challenges from a relatively easy scramble to the challenging traverse of the main peaks that form the Cuillin Ridge. A full traverse under winter conditions offers a particularly stiff challenge that is only suited to the experienced and properly equipped climber.
There are a host of guided climbs, mountaineering courses and holidays on offer in the region. Climbers can choose from a range of courses and climbs to suit, or to push, their skills.
The waters issuing from the Cuillin and flowing into Glen Sligachan are enriched with the natural minerals as they flow off the range. The Cuillin Brewery knows the value of this water and they use it in making their ales, which feature a distinctive flavour that is imparted by the mineral-rich and slightly peaty waters.
The Allt Coir a' Mhadaidh river flows down from the hills into Glen Brittle to form a series of crystal clear pools and tumbling waterfalls that are known collectively as The Fairy Pools. The location of the pools beneath the massive form of The Cuillin Hills is magical, even without the myths and local legends that surround them.
There is a wealth of accommodation available on the island, including luxury
hotels
such as the
Cuillin Hills Hotel
. This hotel, one of the most famous in Scotland, enjoys fabulous views and is well known for the high standards of service and accommodation. Holiday
cottages
,
guest houses
,
camping
and
hostels
are also available for visitors to this wonderful island.
More British Natural features?
Other Isle of Skye Naturals
Falls of Glomach
Old Man Of Storr