British Cathedrals and Churches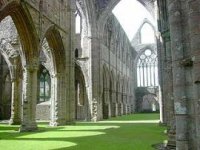 Britain's religious buildings tell a story of power, but also of art and faith, with incredible variety: from
Lincoln Cathedral
, the tallest church tower in Europe, to the tiny Bremilham Church near
Malmesbury
in
Wiltshire
; from St Martin's in Canterbury, possibly Roman, to St Michael's Cathedral in
Coventry
, modernist steel and concrete. Their gargoyles and glass, tombs and towers have tales to tell.
We are rich in magnificent Cathedrals:
Chichester
, famous for its modern art,
Canterbury
where Thomas a Becket was slain;
Salisbury
, a symbol of Norman power; the famous dome of
St Paul's
in London;
St Magnus Cathedral
dominating the skyline of
Kirkwall
in the Orkneys, revering a murdered saint, and the only British cathedral with a dungeon; and
Norwich
, our most beautiful cathedral close.
For centuries the religious orders of Britain were our hospitals, schools and travellers' rests, though many were corrupt too.
Henry VIII
in a few short years from 1536 ended that era when he dissolved and pillaged the orders. But the ruins remaining illustrate their power: the
Cistercian Fountains
in Yorkshire, the greatest of all; its sister house of
Furness
in Cumbria, beautiful redstone reminder of monastic industry; and the smaller
Tintern Abbey
near
Chepstow
.
In medieval times wealthy merchants tried to buy their way to heaven, leaving us the lovely 'wool churches' like
Lavenham
in
Suffolk
,
Thirsk
in Yorkshire,
Northleach
, or St Mary's in Worstead, Norfolk, perhaps the finest, epitomising the peace and quiet of the country church.
Some of our churches are famous for other reasons: the chapel actually on the old bridge at
St Ives
in
Cambridgeshire
; Rosslyn church in Scotland that features in the
Da Vinci Code
; St Monan's church in Scotland, with its photogenic shoreline location.
Even for the non-religious, churches can be moving havens of peace, encapsulating art and history in a moment's contemplation.