Curious About Hastings?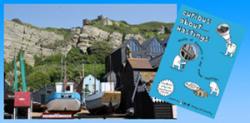 Starts At: Old Town Hall
High Street
Hastings
Sussex | Update this listing
TN34 1EW | map
Tel: 0115 950 2151
Visit website
Send email
add your business for free
Have fun discovering Hastings with two unique treasure hunt style walks. Find answers to clues and match pictures whilst reading stories about this glorious seaside town - you're guaranteed to spot things you've never noticed before.
Walks take 1-2 hours each and are wheelchair and buggy friendly.
Booklet of two walks available to buy or download for just £3.50.
This page has been viewed 1,461 times since 17th July 2012
Other Activities nearby:
Cuckmere Cycle Company, Nr Seaford

Ashdown Forest Centre, Forest Row

Ashdown Forest Riding Centre, Crowborough

Ashdown Forest Centre, Uckfield

Cuckoo trail,

2XS, Chichester

Cuckmere Cycle Company, Seaford

Ardingly Reservoir, Haywards Heath

Duncton Mill, Petworth

Swanborough Fishing Lakes, Lewes

Mill Farm Fishery, Pulborough

Southdown Gliding Club, Cootham

Canters End Riding School, Uckfield

Folkington Manor Stables, Polegate

Gatewood Farm Riding School, Wilmington

Higham Farm Stables, Hastings

Hylands Stables, Hailsham

Meadow Bank Equestrian Centre, Hailsham

Bexhill Sailing Club, Bexhill

Hastings and St Leonards Sailing Club, St. Leonards-on-Sea

East View Trekking Centre, Danehill

2xs Sailing Charter, Eastbourne

Knockhatch Ski & Snowboard Centre, Hailsham

Bowlplex Brighton, Brighton

Lakeside Superbowl, Chichester

Ocean Bowling, Bexhill On Sea

Hollywood Bowl Crawley, Crawley

Horsham Superbowl, Horsham

British School Of Ballooning, Haywards Heath

Sussex Hang Gliding & Paragliding, Lewes

Flybubble Paragliding, Lewes

Apex Paragliding School, Hove

Fairway Marine Services Ltd, Chichester

Wey & Arun Canal Trust Ltd, Billingshurst

The Chichester Ship Canal Trust, Chichester

Panther Charter, Eastbourne

Lagoon Watersports, Brighton

Channel Diving, Rottingdean

Beaufort Charters Limited, Piddinghoe

Southdown School of Hang Gliding, Firle

Air Adventure Paragliding, Peacehaven

Airsports Paragliding, Shoreham By Sea

Airworks Paragliding Centre, Lewes

Freeflight Paragliding School, Brighton

Naturalhigh-Paragliding, Brighton

Sky Paragliding, Brighton

Skylark Paragliding, Firle

Bayeux Bowmen, St Leonards on Sea

Bognor Regis Archery Club, Bognor Regis

Chichester Bowmen, Chichester

Ditchling Archery Club, Ditchling

Friars Gate Archers, Buxted

Sussex Bowmen, Brighton

Worthing Archery Club, Worthing

The Forty Plus Cycling Club,

Ministry of Paintball, Brighton

Ministry of Paintball, Eastbourne

Ministry of Paintball, Chichester

Curious About Brighton?, Brighton

Curious About Chichester?, Chichester

Knockhill MBC, Hailsham


Other things to do in the area
Cabbages and Kings Garden The Centre for Garden Design, Uckfield

Pelham Beach, Hastings

West Dean Gardens, Chichester

Bexhill Museum, Bexhill-on-Sea

Sharnfold Farm, Pevensey

Gardens & Grounds of Herstmonceux Castle, Herstmonceux

LaserHub, Crawley

Drusillas Park, Alfriston

Tilgate Park and Nature Centre, Crawley

Highdown Vineyard, Worthing


Brit Quote:
It is better to lose health like a spendthrift than to waste it like a miser. - Robert Louis Stevenson
More Quotes
On this day:
The Battle of Basing - 0871, 1st British Colonists reach New Zealand - 1840, Spanish Steamer Sinks SS Northfleet - 1873, Battle of Isandlwana - 1879, Queen Victoria dies - 1901, Ramsay MacDonald becomes Britain's 1st Labour PM - 1924, BBC Broadcasts 1st live Football Commentary - 1927, Public Sector Strike Begins - 1979, Space Invaders Hit UK - 1979
More dates from British history