Attraction in Northampton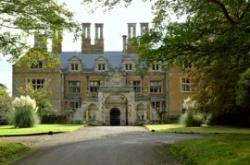 Holdenby House, Gardens & Falconry Centre
Holdenby
Northampton
Northamptonshire
NN6 8DJ | View map
email
http://www.holdenby.com
Click for phone
Write a review
update this listing
Just across the fields from Althorp lies Holdenby, a House whose royal connections go back over 400 years. Once the palace and prison of Charles I, Holdenby provides the regal background for a beautiful garden, restored by Rosemary Verey, and a magnificent Falconry Centre, which has recently been upgraded and restocked. Here you can not only see a wonderful variety of birds of prey, but you can watch them being flown by our trained falconers; or just maybe have the chance of flying one yourself. To see these wonderful creatures swoop to the lure or land on a (safely-gloved) fist is one of the most exciting experiences anybody can have. Add to this the delights of Rosemary Verey's Elizabethan Garden, Rupert Golby's Fragrant Border, a museum, shops, Victorian tearoom and 17th century farmstead and you have a day out that will remain etched in the mind forever.
Details
Months Open: The gardens and Falconry Centre will be open every Sunday and Bank Holiday Monday from 5th April to 27th September inclusive. Opening times are 13:00 to 17:00. Please see our website for any variations and special events.
Admission Price: May-August: Adult £5, Child £3.50, Concession £4.50, Family (2+2) £15. April & September: Adult £3, Child £2, Concession £2.50, Family (2+2) £8.

More Attractions nearby
Northampton Museum and Art Gallery (0.15 miles)

Church of the Holy Sepulchre (0.24 miles)

Abington Museum (1.30 miles)

Titchmarsh Local Nature Reserve (3.50 miles)

Billing Aquadrome (3.61 miles)


This page viewed on 15,179 occasions since Oct 16th 2005
Brit Quote:
If I have seen further than others, it is by standing upon the shoulders of giants - Isaac Newton
More Quotes
On this day:
Battle of Adwalton Moor - 1643, The Great Stink at its Worst - 1858, Night of the Long Knives - 1934, German Troops invade Channel Islands - 1940, First Harry Potter Book Published - 1997, Terror Attack on Glasgow Airport - 2007
More dates from British history