Attraction in Rosemarkie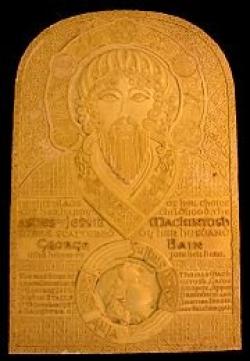 Groam House Museum
High Street
Rosemarkie
Highlands
IV10 8UF | View map
email
Click for phone
Write a review
update this listing
Groam House Museum is an award-winning museum dedicated to the Picts. In the 8th century Rosemarkie was an important monastic settlement - this is the period from which our sculptured Pictish stones come. All the fragments were found locally; the centre piece of the display is a magnificent symbol-bearing cross-slab.

For our visitors we have videos about the Picts as well as the Brahan Seer, the Highland folk-prophet and there is a full photographic record of the Pictish stones in Scotland, plus modern copies from the museum's local photographic archive to browse through. We have a computer with interactive programmes relating to the Picts and Scottish history. Activities include Pictish images for making rubbings, and a reconstructed Pictish harp to play. The well-stocked shop sells items of Pictish, Celtic and local interest.

Our new annual exhibition for 2006: Don't sniff at history - the intriguing tale of a local worthy features items loaned from the National Museums of Scotland, as well as objects from our own collection. Eleven years ago Groam House Museum purchased a silver snuffbox with a local connection. This purchase was made possible through grant-aid from the National Fund for Acquisitions. The snuff box was presented to Captain James Fowler of Raddery by the Fortrose Company of the East-Ross Volunteers in 1802.

The exhibition looks at various themes linked to our snuff box. These include; the historical background; Scottish silversmithing, tobacco and snuff; snuff boces; the Volunteers; the Fowler family in Rosemarkie and the Jamaican connection, where James owned sugar plantations.

Opening times 2006:
1 May - 31 Oct: Mon - Sat, 10am - 5pm; Sun 2pm - 4.30pm
1 Nov - mid Dec: Sat/Sun 2pm - 4pm
For opening times in 2007 please telephone, fax or email.
Details
Nearest UK Airport: Inverness
Admission Price: Free

This page viewed on 4,022 occasions since Oct 16th 2005
Brit Quote:
I do not believe that friends are necessarily the people you like best, they are merely the people who got there first - Peter Ustinov
More Quotes
On this day:
Bloody Retribution in Kennington - 1746, First Penguin Paperbacks - 1935, England win the World Cup - 1966, Falkirk Rail Disaster - 1984, Cool Britannia Party at 10 Downing Street - 1997, Last Edition of Top of the Pops - 2006
More dates from British history