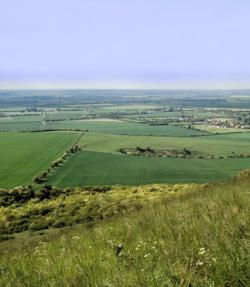 The Dunstable Downs (also known as the Dunstable and Whipsnade Downs) are a 181.27 acre Site of Special Scientific Interest in southern Bedfordshire. At 797 feet they are the highest point of the county of Bedfordshire. The area is part of the Chiltern Hills and was notified in 1987 under the Wildlife and Countryside Act of 1981. The chalk escarpment of the Downs forms the north-eastern reaches of the
Chilterns
.
The greater part of the Dunstable Downs are managed by the National Trust as part of the Dunstable Downs, Countryside Centre and Whipsnade Estate property. The chalk downs give excellent habitat to a wind range of wild life. Rare wild flowers, such as the Bee Orchid, and different butterfly species, like the Marbled White and the Chalkhill Blue have made their homes there.
The Chilterns Gateway Centre is a The National Trust visitor centre sited on the very top of Dunstable Downs. The centre is conveniently next to the B4541 road that crosses the summit. This means that an ascent of the hill, for those not willing or able to put in much physical effort, simply involves getting out of a car at the highest point on the road and walking across to the trig point.
Visitors who like more of a challenge can climb the hill from the base or from
Dunstable
to the north. A circular walk exists that runs, via the base of the hill, from the village of Whipsnade and along the Icknield Way and Chiltern Way. This circuit can be extended to take in the northern top of Five Knolls. Walkers might be joined by visitors who prefer to use the air above the downs to get around. The topography is excellent for gliders, kite fliers, hang gliders and paragliders. The
London Gliding Club
is based at the foot of the downs.
Whipsnade Zoo
cut an enormous lion shape into the chalk on the side of one of the downs. This can be seen from the B489
Aylesbury
to Dunstable road. Whipsnade Wild Animal Park is of course one of the area's principle attractions. The park is owned by the Zoological Society of
London
and is correctly known as ZSL Whipsnade Zoo. With over 6,000 animals in a beautiful 600 acres parkland setting it has been very popular since its opening in May 1931. The zoo received over 38,000 visitors on its second day of opening!
More British Natural features?
Other Bedfordshire Naturals
The Chiltern Hills
Sharpenhoe Clappers
Marston Vale
Greensand Ridge