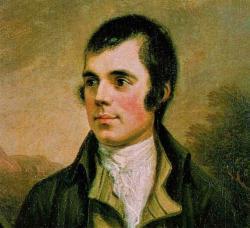 It really is a shame for those who don't celebrate Burns' Night. After all, there is not much fun to be had in the latter stages of January – New Year and Christmas are long gone, and spring seems an eternity away.
For those acolytes of
Burns
, the 25th January is a chance to break those preposterous notions of giving up the whisky; Burns Night, whether you are daft for Burns' prose or just in the mood for a party, is one of the social occasions of the year. Steeped in ceremony, cloaked in steam rising up from pots of neeps 'n' tatties, and made foggy by the numerous toasts in the Bard's name, a Burns Supper is the ultimate Scottish dinner party.
Ceremony is very important. A copy of Burns' more celebrated verses is essential, as many a drunken recital will be required to keep the evening on topic. Kilts and such like are not so essential. Certainly, tradition dictates that a kilt may be quite the thing, but unless you are attending a black tie dinner, come as you are. What is more important is the dinner itself. Any good celebration thinks mostly of its stomach. On Burns' Night, that is incredibly applicable.
The centrepiece of the Burns' Supper is the puddin' – that is, the
haggis
. And being a heady concoction of heart lungs, oatmeal and spices, wrapped in a sheep's large intestine, you are already halfway towards a meal preoccupied with its stomach. With a starter of some traditional Scottish comestibles, and maybe some cock-a-leekie soup or Cullen skink, followed by a slice of steak pie, it's time for the haggis to be piped in. At official Burns Society dinners this would be done by a piper; with chanter in mouth, bedecked in
Highland
dress, the piper's skirl heralds the arrival of the haggis. At home any sort of Scottish music will do.
After Burns' paean to dinnertime, 'Address To A Haggis', is read out, the haggis is stabbed dramatically with a Claymore or a Skean dhu (a kitchen knife will do nicely) and dished out to guests in various degrees of rosey-cheeked disrepair. Neeps 'n' tatties – a buttery, mash of potato and swede – is the traditional accompaniment, with a wee dram splashed over it as gravy. Claret is liberally quaffed – a hangover from the Auld Alliance when the French would send their best wines into
Edinburgh
. After a pudding of cranachan and some cheese and biscuits, it's time for the a single malt and some ad hoc recitals of Burns' best works, and then perhaps an indigestion tablet. Some Burns' Nights finish with a ceilidh… On such evenings, it's maybe best to skip dessert
More British Folk Customs?
If you like this, Share it