Museums and Galleries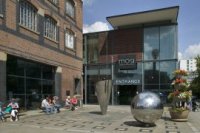 Memorable days out, and the virtuous feeling of having opened your mind a bit. Museums. The word used to strike dread into many hearts, but these days they generally go beyond poorly labelled stuff in glass cases. Britain of course has some of the great museums – perhaps the world's greatest in
The British Museum
in Great Russell Street, London. Newer but with a fantastic reputation is Manchester's
Museum of Science and Industry
in Castlefield. With a worldwide reputation in contrast to its small size, The
Wordsworth Museum at Dove Cottage
in
Grasmere
has the hordes nodding approval. But the choice goes way beyond the historic and the conventional. Our history is linked to the water, so there are loads of museums dealing with boats. For example The
Submarine Museum
in
Gosport
,
Hampshire
, which houses the Holland I, the first British submarine. Or World of Boats on the docks in
Eyemouth
, with the friendliest staff who bring the collection of boats from around the world to life. Inland boating is covered at Stoke Bruerne (formerly the Canal Museum) in
Northamptonshire
, with boats going past to bring the subject to life. Of course some museums are a bit more esoteric – eccentric even – than that. Surely
Southport's
British Lawnmower Museum
fits neatly in this category. The
Orkney Faerie Museum
in Westray is decidedly specialised.
Keswick's
Pencil Museum might sound anoraky, but it is a brilliant way to spend a rainy hour or two in the Lakes, and kids love it. The Bramah Museum near London Bridge Station is dedicated to the fascinating story of Tea and Coffee, but maybe The
Anson Engine Museum
in
Cheshire
is more to your taste. You pays your money (or not, some museums are free) and takes your choice.
Attractions Museums & Galleries:
England
Bath | Bedfordshire | Berkshire | Bristol | Buckinghamshire | Cambridgeshire | Cheshire | Cleveland and Teesside | Cornwall | County Durham | Cumbria | Derbyshire | Devon | Dorset | East Yorkshire | Essex | Gloucestershire | Greater Manchester | Hampshire | Herefordshire | Hertfordshire | Isle of Wight | Kent | Lancashire | Leicestershire | Lincolnshire | London | Merseyside | Norfolk | North Yorkshire | Northamptonshire | Northumberland | Nottinghamshire | Oxfordshire | Rutland | Shropshire | Somerset | South Yorkshire | Staffordshire | Suffolk | Surrey | Sussex | Tyne and Wear | Warwickshire | West Midlands | West Yorkshire | Wiltshire | Worcestershire |
Scotland
Angus and Dundee | Argyll | Ayrshire and Arran | Borders | Dumfries and Galloway | Edinburgh and the Lothians | Fife | Glasgow | Grampian | Highlands | Isle of Mull | Isle of Skye | Lanarkshire | Perthshire | Shetland Isles | Stirlingshire |
Wales
Mid Wales | North Wales | South Wales | West Wales |
Offshore
Guernsey | Isle of Man | Isles of Scilly | Jersey |
Northern Ireland
Belfast | County Antrim |