Attraction in Sherborne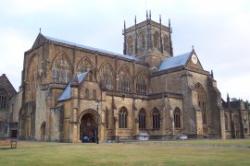 Sherborne Abbey
Abbey Close
Sherborne
Dorset
DT9 3LQ | View map
email
Website
Click for phone
Write a review
update this listing
In the year 705 St Aldhelm, Abbot of Malmesbury and newly consecrated as first Bishop of the West Saxons, chose Sherborne as the site of his new cathedral. The church he built served 26 succeeding Saxon bishops, but soon after the Norman Conquest the See was moved to Old Sarum and later to Salisbury.

Since 998 Sherborne had been home to a flourishing community of Benedictine monks and the former cathedral now became their Abbey Church. It was the monks who carried out a major rebuilding in the 15th century and gave the Abbey one of its chief glories, the earliest great fan-vaulted roof in Europe.

The most recent notable addition is the new Great West Window by John Hayward, dedicated in 1998 in the presence of Her Majesty the Queen and His Royal Highness the Duke of edinburgh.

This year we are celebrating the 13th centenary of our foundation. It is a year of special events not only in the Abbey but throughout the town. Visit our website for details.
Details
Nearest UK Airport: Bristol/Exeter/Bournemouth
Admission Price: No Charge
Donation of £2 per adult
Guided Tour: £2.50
Catering: Facilities close by

More Attractions nearby
Sherborne Museum (0.67 miles)

Sherborne Castle & Lakeside Gardens (0.98 miles)

Museum of South Somerset (5.20 miles)

Haynes International Motor Museum (6.42 miles)

Fleet Air Arm Museum (6.82 miles)


This page viewed on 4,970 occasions since Oct 16th 2005
Brit Quote:
When a society has to resort to the lavatory for its humour the writing is on the wall - Alan Bennett
More Quotes
On this day:
Battle of Adwalton Moor - 1643, The Great Stink at its Worst - 1858, Night of the Long Knives - 1934, German Troops invade Channel Islands - 1940, First Harry Potter Book Published - 1997, Terror Attack on Glasgow Airport - 2007
More dates from British history