Attraction in Cambridge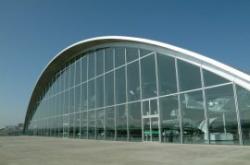 Imperial War Museum Duxford
Cambridge
Cambridgeshire
CB22 4QR | View map
email
http://duxford.iwm.org.uk/
Click for phone
Write a review
update this listing
Set within the best preserved Battle of Britain airfield, Duxford is a vibrant museum that marries its historic past with modern displays, interactive exhibitions, events and attractions. Come and wander amongst two hundred aircraft to discover the science, engineering and fascinating human stories behind the machines that changed our world forever.

Whatever your interest, there is something at Duxford to inspire you, be it the Blackbird ' the highest-flying aircraft ever ' or the legendary Spitfire.

Step back to the days of the Blitz in Hangar 4, where the sights and sounds of the Battle of Britain enable you to fully experience Britain's 'finest hour'. In the restored Operations Room, still tucked behind its original blast-walls, listen to a recreation of an air raid on Duxford in 1940. These fascinating exhibits are brought vividly to life through the stories of the many men and women who contributed towards Duxford's history and the transformation of aviation.

The American Air Museum is built around one of the biggest aeroplanes that you will ever see, the B-52 Stratofortress, an awe-inspiring presence at Duxford.

Equally stunning is the newest exhibition, AirSpace, which tells the story of British and Commonwealth aviation whilst surrounding you with 30 of the most iconic aircraft produced, including the fastest-ever Concorde.

Throughout the year the Museum holds four air shows and many other events such as the Military Vehicle Show, car shows, family activities, expert lectures and much more.
Details
Months Open: All Year except 24 - 26 Dec
Groups/Parties Welcome: Yes
Discount for Groups: Yes
Car Parking: Yes
Wedding Facilities: Yes
Conference Facilities: Yes
Admission Price: Adults: £16.50 - £14.50
Seniors: £13.20 - £11.60
Children: Free
Different prices apply for air shows - see the Museum's website for details.
Catering: Restaurant/Café/ Refreshments

More Attractions nearby
Kettle's Yard (0.21 miles)

Cambridge Contemporary Art (0.41 miles)

Whipple Museum of the History of Science (0.53 miles)

Scudamore's Punting (0.65 miles)

Sedgwick Museum (0.66 miles)


This page viewed on 13,153 occasions since Oct 16th 2005
Brit Quote:
If I could I would always work in silence and obscurity, and let my efforts be known by their results. - Emily Bronte
More Quotes
On this day:
George II Fights Battle of Dettingen - 1743, 1st World Championship Bout by Queensbury Rules - 1890, Barclays opens Britains 1st cashpoint - 1967, Tony Blair announces resignation - 2007
More dates from British history