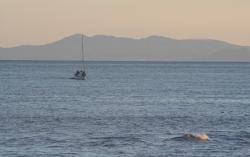 The Firth of Forth (Scottish Gaelic: Linne Foirthe) is a large estuary on the Scotland's east coast. It is the firth, or estuary, of Scotland's River Forth. The river flows into the North Sea between Fife on the north bank and, to the south, West Lothian, the City of
Edinburgh
and East Lothian.
It is famous for two of its four bridges, the Forth Railway Bridge being the more iconic of the well-known pair. The cantilever bridge was the only bridge ever to be constructed of steel, with more than 55,000 tons used before its completion in 1890. The historic bridge is now featured on the Scottish ten pound note.
Alongside the
Victorian
railway bridge is another engineering marvel, the 8,242 ft long Forth Road Bridge. The suspension bridge was built in 1964 to take the road over the Firth of Forth. Previously, anything not going by rail had to go by the ferry which had plied the crossing from
South Queensferry
to North
Queensferry
in one form or another since the 11th Century.
Around 15 miles further upstream two more bridges sit side by side across the firth. These are the Kincardine Bridge and the newly constructed Clackmannanshire Bridge, located near the town of
Falkirk
. This brings the total of bridges crossing the Forth to four, leading to the dubbing of the Clackmannanshire Bridge as the 'Fourth Bridge'. However, should plans to build a second road crossing alongside the Forth Road Bridge ever come to fruition, this pun would cease to apply as there would then be a fifth Forth Bridge!
The estuary is technically a Fjord, having been formed by the Forth Glacier in the last Ice Age. The River Forth is tidal as far upstream as
Stirling
. However, the Kindardine Bridge is usually regarded as the point where the river becomes the firth.
The Firth is a Site of Special Scientific Interest. The Firth of Forth Islands SPA (Special Protection Area) is host to over 90,000 breeding seabirds annually. A bird observatory has been established on the Isle of May.
Aberlady Bay, which is on the shores of the Forth between
Aberlady
and
Gullane
, became the UK's first Local Nature Reserve (LNR) in 1952. The Scottish Ornithologists' Club has its headquarters at Waterston House, Aberlady, a location that enjoys panoramic views of the Bay.
Aberlady Bay is along the John Muir Way, a long distance footpath that leads from Fisherrow (
Musselburgh
) to Dunglass. The bay also represents the East Lothian Section of the trans-national North Sea Trail, a network of paths that connect seven countries and 26 areas.
More British Natural features?
Other Edinburgh and the Lothians Naturals
Arthurs Seat
Pentland Hills
River Almond