Mad Maldon Mud Race, Essex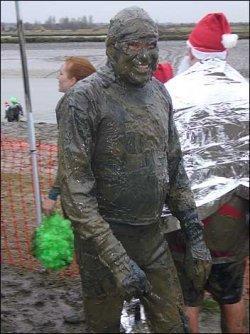 So many things seem like a good idea at the time when the time in question passes in a pub. Such was the case with the original idea that eventually became the Mad
Maldon
Mud Race. Legend has it that a tuxedo was involved in the first scenario devised in the pub; that the dare would have involved serving a meal as part of the challenge; and that a barrel of beer was at one time the marker across the water.
That was back in the 1970s. Nowadays the turn of the year event in Maldon's Promenade Park is a big charity affair, with hundreds of competitors taking part under the watchful eyes of the local Rotary and Lions clubs. Fancy dress is still a big thing – many of the competitors dress for the occasion, and a prize is given to the best outfit – but not compulsory, unlike the taping of footwear to the runners' feet.
Although the race is timed to coincide with very low water in the Blackwater River, the current can still be powerful, and the terrain makes every yard a struggle, each runner inevitably caked in the silty-salty mud within seconds of starting. In racing terms the going is always soft; stop and you begin to sink into the river bed.
It is an excellent tradition. Thousands watch the race from a safe distance – it's better than The Great Escape again; hundreds compete; and large sums are raised for good causes. Sad the beer is no longer a component though.
More British Folk Customs?
If you like this, Share it