This place is no longer on our network
More Accommodation in Looe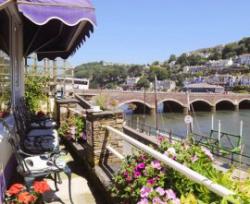 The Old Bridge House
The Quay
Looe
Cornwall
PL13 2BU | View map
Write a review | read reviews
menu
update this listing
A combination of location and superb views make the Old Bridge House Hotel in Looe an ideal place for either a relaxing vacation or as a base from which to explore Cornwall's many fantastic visitor attractions. You will receive a warm welcome and experience a friendly, informal atmosphere throughout your stay.
We are Ideally located in the centre of Looe, we are just a few metres from the west side of the town's historic bridge. All of our en-suite, non-smoking guest rooms are clean and modern with most having a beautiful view of the town's harbour. Visit our website to view our webcam.
Details
Ratings/Awards: AA 4 Stars
VisitBritain 4 Star Guest Accommodation

Price per Person
Double: £32 - £48
Twin: £32 - £43
Single: £32 - £46
For an instant Currency convertor Click
here
Travel Help
Local Car Hire
Book Train Tickets
Book a Taxi
Facilities
For menu click here
Tea/Coffee Making Facilities
No Smoking Rooms
Open All Year
Tourist Board Inspected
TV in Rooms

More More Accommodations nearby
Shutta House (0.17 miles)

Barclay House Cottages (0.34 miles)

Cornish Collection (0.35 miles)

Gulls Hotel (0.51 miles)

Summercourt Cottages (1.95 miles)


Sample Menu:
To Start
A choice of six individually boxed cereals are always available, along with refreshing ice cold milk, or if you prefer, soya milk is always available. We believe that our own hand turned muesli is the best that you will find, packed with a varied selection of dried fruit and nuts - simply delicious!
Peach and Pear slices, delicious prunes soak in their own juices. superb quality grapefruit segments with that bittersweet taste...what a way to tempt your taste buds. And a variety of fruit juices.
We also offer Organic porridge soaked overnight. Plain, with fruit or Flambéd & topped with double cream. *( Pre-ordering is required )

Bread/Toast
Both white and wholemeal are available, locally baked and delivered daily to ensure the quality that you deserve. Along with a selection of preserves, marmalades and spreads

Teas and Coffees
Coffee
We think our fresh Coffee is simply the best. A blend of three high quality coffee beans from India, Brazil and Ethiopia, which are specially selected and roasted to give a smooth, rounded coffee. We also offer espresso, cappuccino and decaffienated coffee.
Teas
Whether it's traditional, Decaffeinated or Earl Grey, The Old Bridge House always uses quality branded teas, to ensure that you get that legendary 'British Cuppa' just how you would like it.
We also have a large selection of fruit teas, including Lemon & Ginger, Pure Peppermint, Tangerine & Peach, Apple & Blueberry, Cranberry, Raspberry & Elderflower, to the more exotic Blackcurrants,Ginseng, Echinacea & Hibiscus, for that Recharge. Hot Chocolate or hot milk is also available.


To Follow
Our full Cornish breakfast will keep you going through the day. Locally sourced butchers sausage* & bacon, grilled tomato, hogs pudding, mushrooms and baked beans. Our locally produced free range eggs are always cooked to order, and to your individual preference. *( Gluten free sausage available )
All of these products are of the finest quality, and are truly delicious. The Old Bridge House is proud to say that we do not buy from markets or wholesalers, but from a renowned local butcher.
Or
Omelette - Plain, or with cheese and mushroom.
Or
Smoked Haddock . with poached egg and grilled tomatoe is available as an option to our Cornish Breakfast. *( Pre-ordering is required ).
We buy fish from Pengelly's on the quay and the reason is that we only want to give you the highest quality product. ( Looe is renowned for it's quality fish ).



Vegetarian Breakfast
Our full vegetarian breakfast consists of grilled vegetarian sausage, grilled tomato, mushrooms, baked beans, Waffle, topped with fried, scrambled or poached egg.
Or
Oak Smoked Filleted Kippers from West Country Smoke House ( Dartmouth )
Or
Sweet pancakes with sliced banana, maple syrup and various fruits.
*( Pre-ordering is required )



For those who want a light breakfast
Croissant - Pain au raison with a selection of preserves, marmalades, spreads, organic fruit yoghurt, Greek Style Yoghurt thick and creamy it makes a fantastic addition to fruit. * ( Pre-ordering is required ).
This page viewed on 5,697 occasions since 26th April 2006