This place is no longer on our network
More Accommodation in Bradford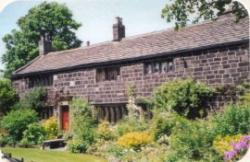 Park House
Park House Road
Low Moor
Bradford
West Yorkshire
BD12 0QB | View map
Write a review | read reviews
menu
update this listing
Park House is mentioned in the Doomsday book. The house as she stands today is an original wattle and daub house dating from approx 1380. The monks of Kirkstall Abbey occupied it at that time and were believed to be stone masons. There are various mentions of tax having to be paid on 120 acres over the 1500 era and then in 1605 the property is left to a young girl aged 5 when her father dies. She goes onto marry a member of the Bolling family from Bradford, and using there wealth ( the Bolling family were the Sherif of Bradford) she comes back to Park House and encases the original house in stone in 1635.They have three children and one sails off to the americas to end up marrying Pochohontas grand daughter. They have children, one of whom goes onto marry a president of the United States.

The original part of the house is used for our guests, further additions over the years have made it a much larger property, but over the last 20 months we have been restoring the original part of the house back to exposing all the timber framework and original fireplaces. Restoring the woodwork and can now proudly boast a beautiful oak panelled hall and open log fires. All is set in an acre of delightful gardens at there best during May June and July.

For those who believe in ghosts, we have many stories to relate, all personally experienced, even the last visitors only three nights ago had two which as non believers could not sensibly explain! For all of that they have booked to come again in September!
The house has a very warm and friendly atmosphere and all are welcomed.

The owner is cordon bleu trained and can provide evening meals upon request. Menus are sent out with confirmation of the booking and with 24hrs notice anything from the menus can be supplied.
Details
Number of Rooms: 2
Number Ensuite: 2
For an instant Currency convertor Click here

Travel Help
Local Car Hire
Book Train Tickets
Book a Taxi
Facilities
For menu click here
Parking
Children Welcome
Evening Meal Provided
Special Diets Catered For
Tea/Coffee Making Facilities
No Smoking Rooms
Open All Year
Building of Historic Interest
TV in Rooms
Garden

More More Accommodations nearby
Sporting Lodge Inns (2.24 miles)

Euro Hostel Leeds (7.48 miles)

Fir Tree House (8.01 miles)

Cosy Haven (8.36 miles)

Highbank Hotel (9.53 miles)


Sample Menu:
English Breakfast Tea or Freshly Ground Coffee.

Orange, Apple, Grapefruit, Tomato juice.

Homemade muesli with or without sugar.
A Variety of Cereals.
Half a fresh Grapefruit.
Creamed Porridge.


Slices of freshly toasted bloomer bread and homemade preserves.


Full English Breakfast
Choose from any or all of the following:

Potato cake, Mushrooms, Fried egg,
Fried bread, Sausages, Scrambled egg,
Tomatoes, Bacon, poached egg,
Baked beans, Kidneys.

OR

Smoked Salmon and scrambled eggs
Grilled Smoked Haddock and poached eggs
Loch Fyne Kippers
Kidneys in cream served on fried bread.

This page viewed on 7,069 occasions since Oct 16th 2005