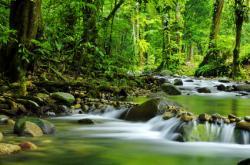 The River Rother runs through the county of South Yorkshire, England.
The River's source is in Derbyshire, at a Pilsney near Clay Cross. The
Rother is joined by the River Drone at Brimington and later by the
River Doe Lea. When the River Rother reaches the Rother Valley Country
Park its course is largely manmade, after which it continues in a
northernly direction until it meets the River Don at Ickles,
Rotherham. The Environmental Agency manages the river as it poses a
flood risk. The Agency employs a mixture of washlands and regulators
to minimise flooding to populated areas.
More British Natural features?
Other South Yorkshire Naturals