Bassenthwaite Lake, Cumbria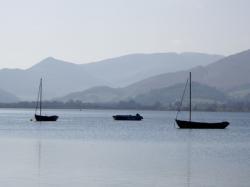 Although Bassenthwaite Lake is one of the largest lakes in the
Lake District National Park
, it is also one of the shallower bodies of water at only around 70 feet deep. The lake is approximately four miles long by three-quarters wide and is fed and drained by the River Derwent.
Bassenthwaite Lake lies down river from
Derwent Water
and there is evidence that the two bodies of water were once linked. The three mile alluvial plain between them could once have been part of one much longer lake along the flow of the RIver Derwent.
Bassenthwaite Lake and Derwent Water are both in glacially eroded valleys left over after the last Ice Age. Like Derwent Water, Bassenthwaite Lake has been home to the very rare vendace fish. Unfortunately, water quality in the lake has declined and the fish has not been sighted there since 2001. It is now thought to be extinct in that location. Derwent Water is now the last known habitat of the vendace fish. Contemporary reports from the time suggest that the lake's waters were still crystal clear as recently as the 1940s. A campaign is underway by the Bassenthwaite Restoration Project to try to restore the lake to this original spotless condition.
A very large area of land drains into the Bassenthwaite, much of it cultivated in some way. It is this farmland that is one of the main sources of pollution in the lake, with phosphates encouraging unwanted algae growth.
Bassenthwaite
has the largest catchment in the Lake District National Park. Despite the deterioration of the water quality, the lake is still very popular with anglers. In fact it is fishermen who are responsible for the dominant numbers of roach in the lake. Roach are used as live bait for pike fishing and many have escaped or been discarded in the lake. As well as roach and pike, salmon, trout, perch, minnow, dace, ruffe and eel are also found in the lake. Fishermen aren't the only ones drawn by the fish as Bassenthwaite Lake is famous for the osprey that nest there.
Although the lake is larger than Derwent Water it is not as popular with visitors. This is mainly because most of the lake's shoreline is privately owned. However, a number of good
hotels
and guest houses in the area provide comfortable and secluded places to stay in the heart of the Lake District.
All the usual Lake District activities are on offer at Bassenthwaite Lake such and walking, boating and cycling. The area is an ideal base for visiting the award winning
South Lakes Animal Park
in nearby Dalton in Furness.
More British Natural features?
Other Cumbria Naturals
Lake Windermere
Scafell Pike
Helvellyn
River Eden
Derwent Water
Ullswater
Solway Coast
North Pennines
Solway Firth
Coniston Water
Wastwater
Arnside and Silverdale
ScaFell
Borrowdale
Buttermere
Aira Force
Duddon Valley
Barrow Island
Walney Island
River Wampool
River Ehen
River Duddon
River Lune
River Cocker
River Esk