Self-Catering in Bowness on Windermere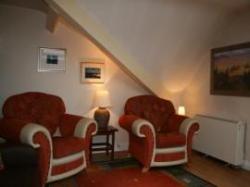 Lake Road Apartment
Top Flat
Lake Road
Bowness on Windermere
Cumbria
LA23 3BJ | View map
Website
Write a review
update this listing
Book Now
This two bedroomed apartment will appeal to anyone wanting a romantic break, a family holiday, walking holiday, activity break or just somewhere to escape to for relaxation and time to re-charge your batteries! We can even provide a complementary voucher for you and your guests to enjoy a spa visit in the Macdonald Old England Hotel and Spa, just a short walk from the apartment, in the centre of Bowness.

The rate quoted is the rate per night for the apartment and not a per person rate and includes all bedding and towels. Everything you need to simply arrive and enjoy your stay. The kitchen is fully equipped, with dishwasher, washing machine, kettle, toaster, mircorwave and oven and the bathroom is comfortable and cosy with a shower over the bath. Small, well behaved dogs are welcome to stay. They love the Lakes too!

Something for everyone, there are shops, restaurants and a wonderful Victorian Cinema within minutes of the apartment and yet, the top floor location of the property provides a peaceful and tranquil setting for your break.
This page viewed on 1,270 occasions since 25th April 2012
Brit Quote:
Power without principle is barren, but principle without power is futile - Tony Blair
More Quotes
On this day:
Edward I Expels Jews from England - 1290, Authority of the pope declared void in England - 1536, British Copsí 1-2-3 in Olympic Tug oí War - 1908, Mein Kampf Published - 1925, Great Martinstown Downpour - 1955, First UK Broadcast of Big Brother - 2000
More dates from British history