Self-Catering in Perth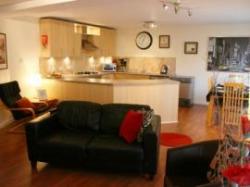 Munro Luxury Apartment
21, Vasart Court
Perth
Perthshire
PH1 5QZ | View map
Website
Write a review
update this listing
Book Now
Suitable for families, walkers, golfers, cyclists, groups,business or pleasure. This luxury 3 bedroom city centre apartment occupies an excellent position and is perfect for a city centre break all year round and is within easy reach of all local tourist attractions. Shops, restaurants and pubs are just a few minutes walk away.
We offer a privately owned 3 bedroom luxury apartment which will sleep up to 6 guests, situated on the ground floor. We are located only a five minute walk from the town centre where the bus and train stations are located.
The Fair City of Perth, renowned for the quality of its restaurants, pubs, theatre, specialist shops, sprawling parklands, award-winning floral displays and scenic setting on the banks of the celebrated salmon river, the Tay. It is also just an hour's drive to Edinburgh and Glasgow.
This page viewed on 1,748 occasions since 13th September 2011
Brit Quote:
The aim of a joke is not to degrade the human being, but to remind him that he is already degraded - George Orwell
More Quotes
On this day:
Great London Tornado - 1091, Battle of Fornham - 1173, Battle of Neville Cross - 1346, Regicides Executed - 1660, London Beer Flood - 1814, 1st Professional Golf Tournament - 1860, First Motoring Offences in Britain - 1895, First Full-Scale British Air-raid - 1917, World's First Fully Commercial Nuclear Power Plant Opened - 1956, Hatfield Rail Crash - 2000
More dates from British history