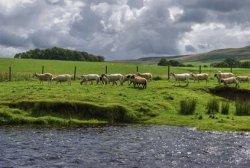 Finding two cooks who will agree on what should go in a Lancashire Hot-Pot is about as easy as finding a straight-talking politician. There is even disagreement about whether the basic meat included should be lamb or – heaven forefend – beef. A little thought about the origins of the dish, however, will show that this is to be expected.

Lancashire Hot-Pot is not some delicate concoction invented by Escoffier or his ilk, formulated with precise instructions as to method and ingredients, to be made in the kitchens of grand houses or great restaurants. It is good peasant – or industrial worker – fodder. The dish is quick to prepare, left to cook gently for hours without needing attention. And it is filling and cheap, though even so it would be a special day when such a dish could be served up for working families.

In the days when cotton was king in towns from Rochdale to Preston , Wigan to Burnley , tall brown earthenware pots would be left on the range to simmer gently, the slow cooking getting the best out of cheap cuts of meat, using the embers of the last night's fire. If properly assembled the dish needed no attention until the workers returned hungry from their labours. The whole family would be working long shifts in the mills, even the small children earning a few pennies a day there, so the dish was ideal for them.

The traditional meat was mutton, best-end of neck, middle neck, or even scrag end, from sheep farmed on the uplands of Lancashire since time immemorial. These days you are more likely to find lamb in the shops, though the mutton renaissance gives hope that this will change. Cheap cuts of mutton benefit from slow stewing to make them tender, and mutton has a stronger flavour than lamb, meaning a little could go a long way.

The dish is assembled with a layer of fairly thickly sliced potatoes followed by some meat, then usually thinly sliced onions, this construction seasoned with salt and then repeated until a layer of potatoes forms the top, the whole of this having water enough to prevent it drying out in cooking, and leaving a tasty gravy at the end.

There are many variations, some claimed as required for the one true dish: mutton kidneys added with the meat to give extra flavour to the stock; oysters, once the food of the poor in Britain, seasoned the gravy and gave it a more gelatinous texture, as well as adding cheap protein; with increasing prosperity sliced carrots and turnips gained a place in some recipes. My Edwardian Cassell's Dictionary of Cookery rather incongruously cites a teaspoon of curry powder as required, as these days some cooks will add a dash or two of Worcestershire sauce to give a bit of piquancy to the liquid.

Don't hope to find a truly authentic version, as there is no definitive recipe. But do try the dish – and make sure it is cooked for at least three hours rather than the 90 minutes many modern cooks seem to prefer. If you can get mutton, do so, preferably the cheapest stewing cuts, though if you have pernickety eaters in the house use chops. If you like kidney, add a few. Carrot? Why not?

The tradition endures in households throughout Lancashire and beyond. These days the dish, or variants on it, appears frequently at 'dos' in pubs and clubs – Betty's hot-pot in Coronation Street spread its fame beyond Lancashire's borders - and there are caterers who specialise in it, serving it up with heaps of pickled red cabbage or strong pickled onions to bulk it out and add some bite for the modern palate. For these caterers Lancashire Hot-Pot still has the virtues esteemed by Victorian mill-workers: it is economical, one pot cooking that fills people up and satisfies the stomach and soul in one go. At its best, made at the likes of Northcote Manor , it can be a real flavour-fest too.