Jellied Eels, London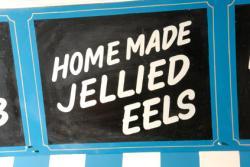 The cockney delicacy supreme, even today jellied eels can still be found in the much changed London , with Brick Lane the centre of excellence. Jellied eels should be bought from a stall on the street, or a pie and mash shop, rather than cooked at home or heaven forefend adapted and gentrified by an overly creative chef. They are, like fish and chips, a street food: like fish and chips they may have their origins in immigrant cookery, possibly brought by refugees from Europe to London's streets - it was the Huguenots who brought us chips, and Jewish immigrants who introduced fried fish, but British genius that combined the two. The link with France again may be a close one - the French have aspic d'anguille, a similar dish, in their culinary repertoire.
The eel was a readily available food resource for the capital, with eel fisheries in the Thames until pollution killed them off - they are back again now, in the cleaner river, however. The natural history of the eel suited it for cities too, living a long time out of water - in fact they are tough to kill however long out of the water - and simple to keep in barrels of water for transportation.
The eel is a fat fish, highly nutritious, and its cooking liquor when boiled is naturally gelatinous, though gelatine is often added to this to ensure a well set liquid. The liquor is spiced and flavoured - lemon and nutmeg are often used - with vegetable stock frequently forming the base of the liquid for extra flavour. In London jellied eels are often accompanied by chilli vinegar - in Italy a similar pairing is made, though the vinegar is more likely to be balsamic - and served with mashed potatoes and peas makes a substantial meal. The eel is cut into pieces between an inch and two inches long, and care needs to be taken with the bones, perhaps one of the reasons for a decline in popularity of the dish. If steak and kidney pie is served too, the diner will need little else that day.
Eel pie was formerly a popular dish, in which eels were cooked beneath a pastry lid, but in spite of the continued existence of Eel Pie Island whose name honours the dish, and celebrates the catching of the creatures there, the pie is a rare sight on menus or in households today.
Though some eels are being caught again in the Thames, most will be brought in from Lough Neagh in Northern Ireland, with fisheries in the North of England contributing too.
It is not necessary to don Pearly King gear, nor affect a terrible Dick van Dyke mockney accent, to enjoy jellied eels. A little courage is all that is needed to get over the British aversion to things slimy, but then oysters are a much prized and very expensive delicacy and they are no culinary oil-painting.