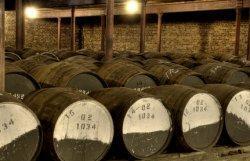 "The first signpost you see when coming off the ferry at Port Ellen on Islay has only two words in it; it points right to ARDBEG and left to BOWMORE. Brilliant, I thought; a road sign that is made up 100 per cent of distillery names; a proclamation that you are on an island where the making of whisky is absolutely integral to the place itself, where directions are determined by drink!" Iain Banks , 'Raw Spirit – In Search Of The Perfect Dram'.

Only 3,000 people call the windswept Isle of Islay home. The southernmost of the Inner Hebrides, it can seem deserted. Its history dates back to Neolithic times. It is home to many species of bird. Great swathes of peatland are puddled by lochs stained brown by the peat. The waters surrounding it are home to whales, dolphins and seals. Islay is special, and its flora and fauna are only part of its magic. For all of Islay's charms, it is – to writer Ian Banks' delight – whisky that puts it on the map. Such is the depth of its whisky-making history and the quality of its drams, Islay can legitimately claim to rival Speyside as the whisky capital of Scotland – and ergo, the world. During the salad days of the 1830s there were over 300 licensed distilleries. The number of unlicensed illicit distilleries is somewhat harder to count. Only the telltale plumes of steam would surrender the presence of the potted scotch still, and on an island as sparsely populated, remote and independent, they would go unnoticed.

Many homes would have one. It was considered a democratic right. After all, what was the point in crofting, leading a life of self-sufficiency, and not being able to make your own alcohol? At the beginning of 2008, there were only eight distilleries in operation on the island – Kilchoman opened in 2005 with its debut malt being available in September 2009. Islay's distilleries have never been more appreciated as they keep spirits high for the island's economy and even higher for whisky drinkers besotted with its convivial character. Islay's malts have warmed hearts all the way from Edinburgh to Tokyo and everywhere between. Islay has something for all single malt lovers. They have been making whisky on the island ever since the potted scotch method arrived on Scottish shores by way of Ireland, stopping on Islay and Kintyre on the way to the mainland, which Bruichladdich say happened around 500BC.

Whisky production was really the only sensible use for excess barley left over from harvest. The primordial drams were far removed from the sophisticated palates of the Laphroaig and Caol Ila. They weren't aged; they were just improvised barrels of firewater. Harsh and unforgiving on the throat, they nonetheless whetted Islay's appetite for 'uisge beatha' – 'water of life' seemed like an appropriate name for the drink. Islay's whiskies were delivered to the mainland by boat and as a consequence its distilleries are dotted around its coastline. But the sea doesn't just stop at helping the distilleries export their whisky – it helps add to the flavours that make Islay whiskies so unique.

Take Caol Ila in the north of the Island. It is unusual in that its heavily peated dram, infused with the medicinal tasting notes of iodine from the sea-spray that washes over the coastal regions, is incongruous with the less intense flavours of Islay's northern whiskies. Bruichladdich and Bunnahabhain are both typical of the north. Both eschew heavily peated water in favour of spring water, resulting in whiskies exhibiting a more
mellow character and finish that is likely to be more in harmony with the inexperienced whisky drinker's palette. Bowmore is slightly different, catering for all tastes.

There is a consensus that the wonderfully complex single malts of Caol Ila, and its southern counterparts – Ardbeg , Laphroaig, Lagavulin, and the now defunct Port Ellen – are for the veteran. One whose tastebuds are cavalier enough to cope with whiskies peated waters. Waters which are inflected with kelp and bladder wrack seaweed essences, carried by the wind and deposited in Islay's lochs. Whiskies with shades of smoke, tar and antiseptic all running through their finish.
These phenolic whiskies, their aromas oft-recall that of Polytar – the coal tar anti-dandruff shampoo (which you never see in chemists anymore, note: the shampoo comparison is not a criticism). They produce a wonderful, fragrant dram, with said iodine and sea salt seasoning the whisky's peated water. Caol Ila, that northern anomaly, is indicative of that complexity. Both warming and cleansing in its finish, Caol Ila is an excellent choice to end a special dinner party with. So too, Laphroaig – the Prince Of Wales ' favourite, no less. Again, it too has a strong medicinal, nigh-on antiseptic, taste. Allying more floral tasting notes to a smoky, dry body. Pronounced 'la-froyg', it was established in 1815, just over a mile from Port Ellen. Its distinctive green bottle with white label is more than welcome on any Burns' Night.

The last couple of paragraphs are probably too polite to accurately describe exactly what Caol Ila, Laphroaig, Lagavulin and Ardbeg do to the palate; they contort it; they abuse it with a chemical rush; then they leave nuances of smoke, an almost hydrocarbon taste; before finishing with a sense of splendour leaving the cheeks rosy red and your senses wondering just what exactly happened. The resurrection and rehabilitation of the single malt has been long overdue. For too long it was in the shadow of the cheaper blends, and overlooked as a boutique product. But some adroit marketing, more enlightened attitudes about whisky – whisky is 'cool' all of a sudden – and of course the painstaking expertise that goes into each 'expression', the single malt's esteem has never been higher. Its purity, its craft is more than equal to that of a fine wine. There is
something magical about a drink that has been 10, 15, or 20 years in the making, maturing in casks originally containing bourbon, sherry, madeira, or rum. Why? Because it is worth the wait

Visit Bowmore
Comment?