Curious About Hereford?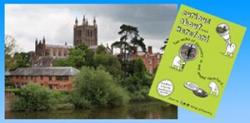 Starts at: Hereford Cathedral
Cathedral Close
Hereford
Herefordshire | Update this listing
HR1 2NG | map
Tel: 0115 950 2151
Visit website
Send email
add your business for free
Have fun discovering Hereford with two unique treasure hunt style walks. Find answers to clues and match pictures whilst reading stories about this beautiful city - you're guaranteed to spot things you've never noticed before.
Walks take 1-2 hours each and are wheelchair and buggy friendly.
Booklet of two walks available to buy or download for just £3.50.
This page has been viewed 879 times since 17th July 2012
Other Activities nearby:
Wye Pursuits, Kerne Bridge

Monnow Events, Kentchurch

Symonds Yat Canoe Hire Ltd, Symonds Yat

Celtic Canoes, Hay-on-Wye

The Boat House, Glasbury-on-Wye

Pedalaway - The Cycling People, Ross-on-Wye

Pedalaway, Ross-on-Wye

Meadow Bank, Leominster

Noakes Farm Riding Centre, Bromyard

Tipton Hall Riding School, Bromyard

Herefordshire Raceway, Weobley

Herefordshire Nature Trust, Hereford

TGS Bowling, Hereford

Bollingham Pools, Nr Eardisley

Kingfisher Cruises, Symonds Yat East

Symonds Yat Canoe Hire, Symonds Yat

The Millpond, Little Tarrington

Grove Golf And Bowl, Leominster

Ross On Wye & District CC, Ross On Wye

Golden Valley CC, Hereford

Evesham & District Wheels CC, Ross on Wye

Bromyard Bowmen, Bromyard

Border Kart Racing / Kinsham Raceway, Knighton

Ministry of Paintball, Hereford

Interactivities Outdoor Adventure, Hay On Wye

Weobley Heritage Trail, Weobley

Ironsides Mountainboard Centre, Tillington

Ullingswick Fishing Pools, Ullingswick

Tack Farm Event Centre, Ullingswick


Other things to do in the area
Ledbury Heritage Centre, Ledbury

Hereford Museum and Art Gallery, Hereford

Kingfisher Cruises, Ross-on-Wye

The Time Machine Museum and Coffee Shop, Bromyard

Abbey Dore Court Gardens, Hereford

Croft Castle, Leominster

Shipley Gardens, Holme Lacy

Eastnor Castle, Ledbury

Four Foxes Vineyard, Hereford

Old Chapel Gallery, Leominster